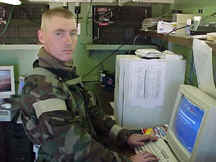 Here is what happens when a US Soldier gets even with his
Crappy HP Printer
And here is what HP did about it:
US Soldier Shoots An HP Printer Out Of Frustration - HP Sends A New Printer
Crappy HP Printer
came from a friend via email, I thought it was funny. By no means do I mean disrespect for HP or the US Army. But shooting the crap out of that printer reminded me of
Office Space
scene where they beat the fax machine with a baseball bat. Everyone can relate to pc load letter errors, can we?
For Business or Mission Critical Operations do not use a cheap multifunction printer from HP, Dell or Cannon. If you need a replacement HP Multifunction Printer Fax Scanner, contact a
Tech Travel Agent
. If you would like to be a vendor, please join the
TECH-ARMY Organization
.